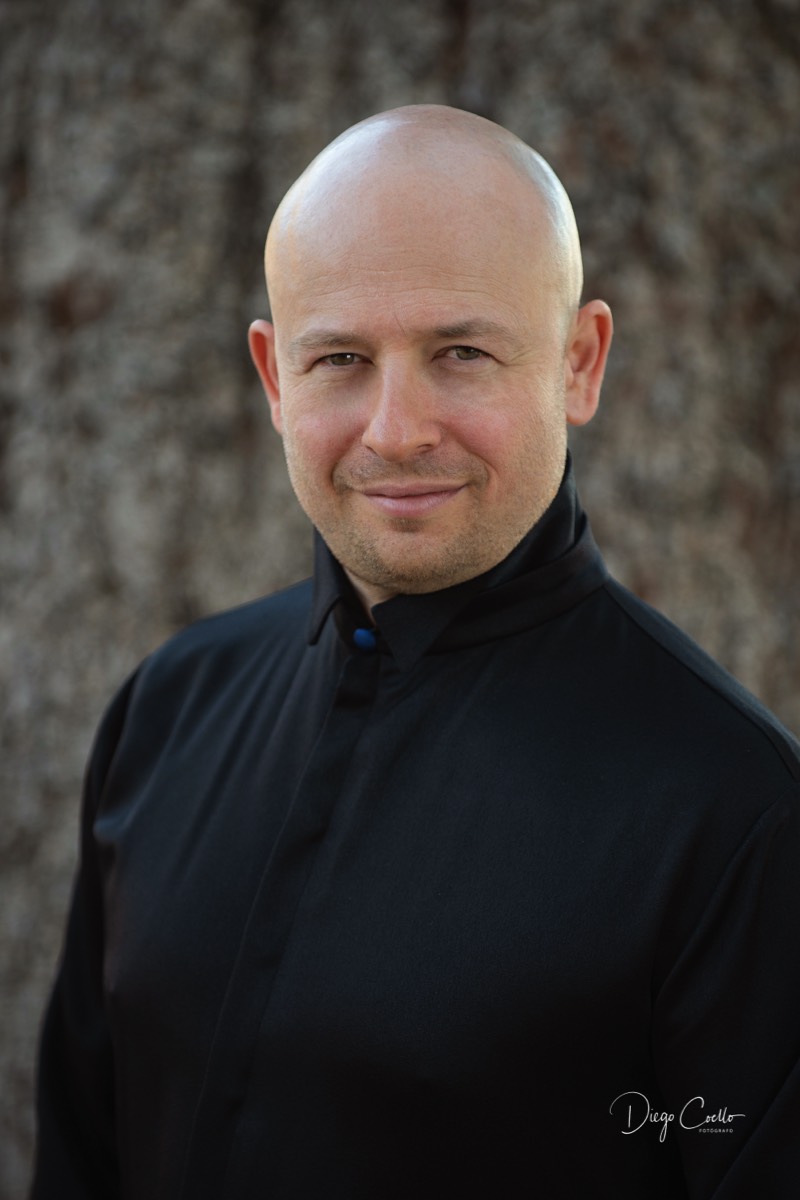 Professor at the Katarina Gurska conservatory in Madrid and founding professor of the Franz Liszt Center in La Nucia. He is the winner of several awards in national and international competitions. Since the age of 15 he has given recitals and master classes in Europe, the United States, South America and Asia. To name a few: in Alexandria and New Harmony (Indianapolis, USA), at the International Piano Festival in Bucaramanga, International Piano Festival in Barrancabermeja, International Season cycle in Manizales (Colombia), Kolarac in Belgrade (Serbia), in the Kodály Institute, Kodály School, in the Béla Bartók Museum, in one of the most important festivals Zsidó Kulturális Fesztivál in Szeged (Hungary), recitals in Sweden, Greece, in the Midis-minimes festival, in Muziekacademie de Berchem-Sainte-Agathe in Brussels (Belgium) and in Spain in important auditoriums such as the Palacio de Cibeles in Madrid, Palau de la Música in Valencia, Teatro Principal de Alcoy, Victor Villegas Congress Center in Murcia, in the Adoc, in the
University of Burgos, at the International Chamber Music Festival in Calpe, in Dénia Classics, Aula de la Cam in Alicante, Auditorium of Teulada, La Beneficencia in Valencia, in the Auditorium of the Diputación ADDA in Alicante, Auditorium Mediterrania in La Nucia among others. He has performed in private concert for the Princess of Thailand S.A.R. Chulabhorn Mahidol.
He is a founder and member of the international Universal Music Camerata. He has performed with artists of international stature such as Clara Novakova, Joaquin Palomares, Joan Enric Lluna, Jovan Bogosavljevic, Susanna Gregorian, with the soloists of the Valencia Orchestra, etc.
He has been invited as a member of the jury in prestigious competitions: Jenő Takács International Competition, Béla Bartók International Competition in Austria, Franz Liszt Competition in Rome, Bucaramanga Contest (Colombia), the IMFV Valencia Competition, the Ibiza International Competition, Villa de Xabia Competition among others.
Internationally recognised pianist and teacher: he has been invited to prestigious Master Classes such as the Laus Academy in Dubrovnik (Croatia), at the World Teachers Conference in Novi Sad (Serbia), in Budapest (Hungary), at the Katarina Gurska conservatory, in Forum Musikae (Madrid), at the International Piano Festival "UIS" in Bucaramanga, in Manizales (Colombia), Special School of Music in Apatin (Serbia), Professional Conservatory in Alicante and Dénia, at the International Music Festival in Valencia.

His students are the winners of over 60 prizes in national and international competitions.

István I. Székely plays with a sublime delivery that in his concerts goes beyond anything physical and levitates above the keyboard as if his fingers did not need to touch the keys. It is mastery that allows him to fully master technique and performance…… the emotions that Székely's performances convey are timeless and clean. There is no impurity. It is something so difficult to achieve, so experiencing it is amazing. No surprise, no doubts, no collisions with the scores or with the authors. There is excitement and mystery. The mystery of life is that it is sometimes hidden and that it arises here to wrap up the interpretation, without glazes or ties. And it is life, so inexorably linked to death, which is in each breath, each trace of breathed air that the notes leave. The beautiful and absolute notes that say everything when they are played with the depth of one, who for a moment is next to the composer, in another era, and next to the viewer, in the present moment, simultaneously, in a magical transposition. It is absolute mastery. The absolute delicacy. This is a concert by István I. Székely.
Francesc Sempere, Director Auditori de la Mediterrània
"István I. Székely is a truly wonderful pianist and musician. He has a poetic touch at the keyboard giving every note and phrase an artistic and symbolic meaning. With an outstanding technical command of the instrument he takes you by the hand to the inner meaning of the works that he interprets"
Graham Jackson, Conservatorio Superior de Madrid
"István has acquired a flawless technique of the highest professional standard, as well as a superb sound control which he was able to show at an impressive performance of Liszt's Totentanz for Piano and Orchestra last autumn. Additionally, he has a unique talent for shaping musical structures in the most natural way, understanding and projecting the composer's intentions with empathy and clarity. In my view, there is no doubt about István Székely's qualification to become one of the most successful representatives of our profession. "
Achim Holub, conductor, London
"…what struck me the most was the intimacy and connection, it was as though every note was speaking from the essence of his soul. Wow! "
Christina Cooper, Performance coach, London